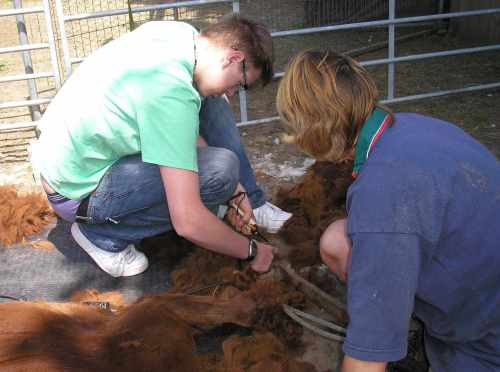 Heroes Berkshire is a Therapeutic Learning Centre and Animal Farm, where children can attend to learn about animals.
We offer alternative provision for young people who struggle in main stream education. Our learning is centred around the animal farm and the animals, and the young people get fully involved with the running of the farm, cleaning, maintenance, feeding, grooming, exercising, stock taking, food pricing, photography and the list goes on.
Our programme helps many young people who have lost the confidence in their ability to learn, re-engage with education and our friendly calm environment helps young people build their confidence and self-esteem.
Our learning programme helps them re-discover the fun of learning as they become involved in practical and meaningful activities which help them develop important skills like leadership, communication, and initiative.
Physical

Increase range of motion

Improve fine motor skills

Tone under used muscles

Improve coordination and balance

Increase muscular strength

Mental

Increases independence

Increase self-esteem and confidence

Increase observation skills

Provides choices and ability to use problem solving skills

Encourages creativity

Provides outlet for stress, anger and emotions

Social

Opportunity to interact with others

Commitment to a living thing

Co-operation and team working skills

Dealing with success and failure

Provides an environment to learn and be inspired by others
Every young person who attends Heroes, will have the opportunity to learn about the natural environment, engage in art, learn how to handle risks, and most importantly how to use their own initative to solve problems and co-operate with others through team building exercises.
To refer a young person to us, please email us [email protected] we will send you a referral form to fill in and then arrange an assessment visit and we will assess whether we feel your student is suitable for our Heroes Programme.
Once we have had the assessment visit, as long as we have space, we can normally start the student very quickly as we understand how daunting it can be for young people who are making changes in their routines.